All Out! Sat. March 18 -- National March on Washington. The rally will start at 1 PM in Lafayette Park across from the White House

On the 20th anniversary of the US invasion of Iraq we say:
No War in Ukraine! No to NATO! No Weapons, No Money for the Ukraine War
More than 200 organizations have endorsed this protest
(UNAC will have a meeting at 11:30 am to the left of the stage - look for the UNAC banner. Please attend if you would like to help out during the march and rally)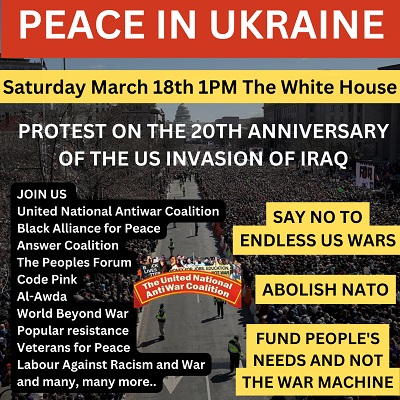 Click here for UNAC placards and flyers to use one Saturday and other material to help build this action.
If you can't make it to Washington, there are a number of actions taking place around the country in solidarity. You can find them here.
The demonstration will make connections between the human and financial toll of U.S. militarism at home and abroad. Key demands include:
Peace in Ukraine - No weapons, no money for the Ukraine War

Abolish NATO – End U.S. militarism & sanctions!
Fund people's needs, not the war machine!
No war with China!
End U.S. aid to racist apartheid Israel!
Fight racism & bigotry at home!
U.S. hands off Haiti!
End AFRICOM!
End Sanctions on Syria!
Important contingents are being formed. Click on the caption to register for the contingent.

Endorsers (there are now over 200 endorsers of the demonstration):
United National Anti-War Coalition, ANSWER Coalition, Black Alliance for Peace, The People's Forum, CodePink, World BEYOND War, Popular Resistance, Veterans for Peace, International Action Center, Party for Socialism and Liberation, Al-Awda, The Palestine Right to Return Coalition, Labor Against Racism and War, Leonard Peltier Defense Committee, Universal African Peoples Organization, East Bay Democratic Socialists of America, Socialist Action, Nevada Green Party, Samidoun Palestinian Prisoner Solidarity Network, Ohio Peace Council, Green Party of Connecticut, Berkeley Fellowship of Unitarian Universalists Social Justice Committee, Environmentalists Against War, Pacific Green Party (OR), Linn-Benton Chapter, Lauren Faith Smith Ministry for Nonviolence, Maine Cumberland County Greens, Genesee Valley Citizens for Peace, San Jose Peace and Justice Center, Servicio Particular Alacran, Minnesota Peace Action Coalition, PeaceWorks of Greater Brunswick, UPWARD (Uniting Peace With Actions Respect and Dignity), Socialist Party of America, North Country Peace Group, Workers World Party, Roger Waters, PeaceWorks, Bronx Antiwar Coalition, Global Network Against Weapons & Nuclear Power in Space, Chicago Anti-War Coalition, National Immigrant Solidarity Network, China-US Solidarity Network, North American Climate Conservation and Environmental group, Stop the War Machine - New Mexico, Bethlehem Neighbors for Peace, Odessa Solidarity Campaign, DC Young Communist League, Uhuru Solidarity Movement, North American Climate Conservation and Environmental group, Virginia Defenders for Freedom Justice & Equality, Freedom Road Socialist organizaton, Border Peace Presence, Mississippi Green Party, Peace and Freedom Party, US Peace Council, Our Revolution of Ocean County, NJ, Upstate Drone Action, National Network Opposing the Militarization of Youth, NYC Free Assange, Mothers Against the War (Puerto Rico), International Manifesto Group, Border Peace Presence, Green Party or Mississippi, Peace and Freedom Party, Our Revolution (Ocean County, NJ), Upstate Drone Action, US Peace Council, National Network Opposing the Militarization of Youth, Roger Waters, Noam Chomsky, Ann Wright...[and many, many more]