Associated demonstrations taking place on March 18 in other regions of the country!
<![if !vml]>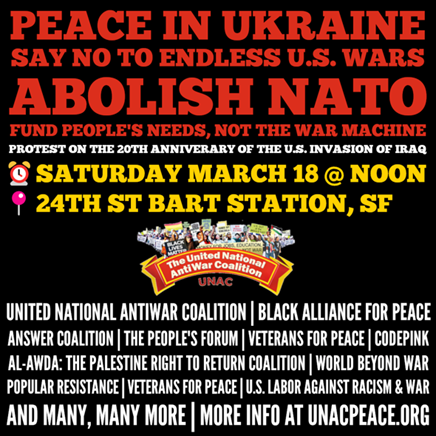 <![endif]>
Clintonville, OH
12 PM
North East Broadway & High St.
Columbus, OH
2:00 p.m.
Ohio State House
Des Moines, IA
2:00 p.m.
915 Mulberry Street
More information on Facebook
Fresno, CA
12:30-2 pm
Corner of Blackstone and Nees Aves.
Sponsor: Peace Fresno
Contact: Ken.Hudson@peacefresno.org
Los Angeles, CA
1:00 p.m.
Rally begins at CNN Building
6430 Sunset Blvd., Hollywood
Madison, WI
11:00 a.m.
Anderson Street and Wright Street
Minneapolis, MN
1:00 p.m.
Library Plaza (Hennepin & Lagoon Ave S.)
San Diego, CA
3:00 p.m.
Miramar Rd. & Clayton Dr.
San Francisco, CA
12:00 p.m.
March and Rally
24th and Mission St. BART
answer@answersf.org
Seattle, WA
2:00 p.m.
Westlake Park
Springfield, MO
5:00-7:00 p.m.
Park Central Square
Westbrook, ME
Westbrook, Maine
1:30 PM
at the intersection of Stroudwater St & Williams Clark DR