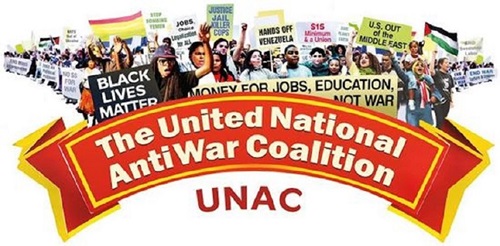 Click here to read this email in your browser

Save the date
UNAC's national conference will be held in New York City at the People's
Forum, February 21 - 23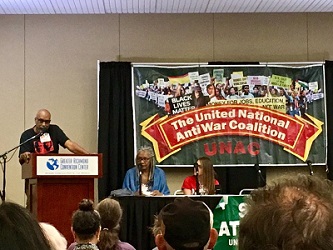 February 21, 22, 23, People's Forum in New York City
"Rise Against Militarism, Racism and the Climate Crisis - Building Power Together"
To register, get an ad in the conference Journal or information on other logistics, please go here.
Also join and share the conference facebook event: here

Call for International Days of Action Against
Sanctions & Economic War: March 13 – 15, 2020
Sanctions Kill!
Sanctions are War!
End Sanctions Now

To add your endorsement and help spread the word, please click here
Sanctions are imposed by the United States and its junior partners against countries that resist their agendas. They are a weapon of Economic War, resulting in chronic shortages of basic necessities, economic dislocation, chaotic hyperinflation, artificial famines, disease, and poverty. In every country, the poorest and the weakest – infants, children, the chronically ill and the elderly – suffer the worst impact of sanctions. [
read more
]
UNAC Statement on the Bolivian Coup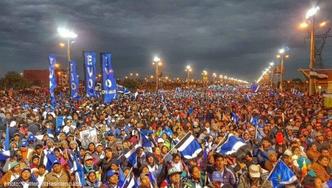 President Morales was the first indigenous president of Bolivia. When he was granted asylum by the Mexican government he said these words upon his arrival. "If I have committed a crime; it's being indigenous. If the Vice President has committed a crime; it's implementing social programs for the humble and poorest sectors seeking social justice." [read more]
Chicago conference to relaunch National Alliance Against Racist and Political Repression a huge success
(pictured is Frank Chapman, interim exec. Director of the Alliance who will speak at the UNAC conference in February)

Chicago, IL - More than a 1200 joined together for an historic gathering on the weekend of November 22 – 24, at the hall of the Chicago Teachers Union, to refound the National Alliance Against Racist and Political Repression. The newly refounded Alliance will concentrate its efforts on building the fight against police crimes and for community control of the police, and it will campaign for the release of political prisoners and the wrongfully convicted [read more]
- Supratim Barman presents Chelsea Manning's most recent legal affidavit where she pleads her case, she is being tortured but she will not testify
- Jeff Mackler and Lazaro Monteverde provide a timeline and some serious analysis of the recent coup which overthrew Evo Morales in Bolivia
- Randi Nord reports on evidence of western interference underlying the current unrest in Lebanon
- Glen Ford presents damning research into the origins of the US Thanksgiving holiday
- Caitlin Johnstone shows the significance of the OPCW scandal where a respected international expert organization deliberately skews its findings to support a political agenda
- Sam Husseini takes a broad look at the issues raised by the KingsBay Plowshares anti-nuke action and the 3 day trial and conviction of the 7 activists now facing (essentially) life sentences
- Medea Benjamin reports from Bolivia live on a post-coup massacre of indigenous supporters of Evo Morales party MAS
- Richard Greeman looks at the reorganization of the Yellow Vest movement at 1 year old
- Makasi Motema explains that solidarity is about making sure the politics you hold inside of your home match the politics you hold outside of your home
- Philip Farruggio and Peter Koenig discuss the privatization of water and the risks it presents
- David Jones looks at the temporary and limited gains won by the recent reassertion of the UAW
- Kathy Kelly reflects on the consequences of the US - Saudi war on the poorest state in the Middle East
- Margaret Kimberley notes that people are rising up all over the world, but we are just getting started here in the US
Please make a contribution to UNAC:
https://www.unacpeace.org/donate.html
If your organization would like to join the UNAC coalition, please click here: https://www.unacpeace.org/join.html
To unsubscribe from this list, please send an email to UNAC-unsubscribe@lists.riseup.net