To view this email in your browser, click here
Kevin Zeese — Presente!
Kevin Zeese, co-director of Popular Resistance, passed away early in the morning of Sept. 6, 2020. Kevin was an active member of the UNAC Administrative Committee, playing critical roles in numerous actions including our conference this spring, and collaborations like the No Foreign Bases Coalition, the Hands Off Syria Coalition, the Sanctions Kill Coalition and others. Last summer he helped initiated and lead the Embassy Protection Collective who stayed to protect the Venezuelan Embassy in Washington DC after the Venezuelan Ambassador was forced to leave.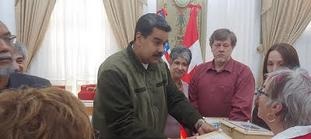 Kevin Zeese meets with Venezuelan presdent Nicolas Maduro in March 2019


UNAC announces the formation of its new youth group
At UNAC's national conference in February, we voted to organize a youth wing of UNAC. Several young people representing a number of UNAC affiliated groups have been meeting and have voted to become, "UNAC Youth Against Empire." They will be organizing a Youth Against War webinar in October and we will send out information on the webinar in the near future. For youth interested in information on the new group, please send an email to UNACpeace@gmail.com
Read the UNAC Blog for articles by UNAC members and friends
https://unac.notowar.net/
Recent Posts:
Prakash Kashwan, Consortium News

Margaret Kimberley, Black Agenda Report

Jeff Mackler, Socialist Action

Mark P. Fancher, Black Agenda Report

Omar Flores, Workers World

Phil Wilayto and Virginia Defender Staff

Samia Saliba, Nadia Niva & Andrew Meyer, Mondoweiss

Joe Piette, Workers World

Danny Haiphong, Black Agenda Report

Kevin Zeese and Margaret Flowers, Popular Resistance

Luis H. Francia, Malaya Movement
Please make a contribution to UNAC:

https://www.unacpeace.org/donate.html
If your organization would like to join the UNAC coalition, please click here: https://www.unacpeace.org/join.html
To subscribe to the UNAC YouTube channel please go here: https://www.youtube.com/channel/UC6zb1Rg8CiAO9Ff8kLlXXiQ

To unsubscribe from this list, please send an email to UNAC-unsubscribe@lists.riseup.net