Report on the CodePink delegation to Pakistan

by Joe Lombardo, UNAC co-coordinator

I arrived in Islamabad at 2:30 am on October 3 with about 7 other members of our delegation after a grueling flight from New York. We were part of the Code Pink anti-drone delegation to Pakistan. On arrival in Islamabad, we were amazed to see a large group of people welcoming us from the Aafia Siddiqui movement. This is a movement in support of Aafia Siddiqui who is in solitary confinement in a Texas prison serving an 86 year sentence. Aafia, like other Muslims in prison in the U.S. as part of the phony "War on Terror," is guilty of nothing. I will explain more about her case later in this report.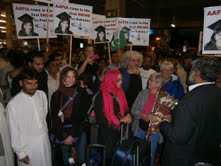 After arriving at our guest house where the entire delegation was staying, I had about 1/2 hours sleep before meeting the rest of the delegation at our orientation. Others on the delegation include Col. Ann Wright, who quit the military and her diplomatic post over the invasion of Iraq, Medea Benjamin, the dynamic leader of Code Pink, Leah Bolger, president of Veterans for Peace and UNAC administrative committee member, Judy Bello of the Upstate NY Coalition to Ground the Drones and End the Wars and UNAC administrative committee member and a host of other wonderful activists and individuals, including 3 other members of the Upstate New York Coalition. We were 31 people in all.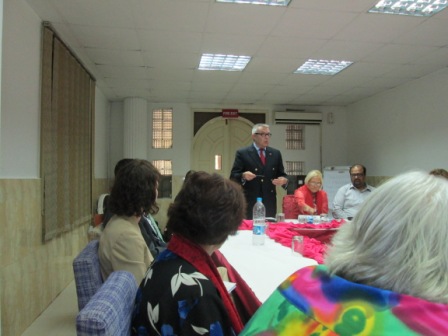 On our first day in Pakistan, we met with the acting U.S. ambassador, Richard E. Hoagland, who made the fantastic statement that no civilians have been killed by the drones since 2008 (the year Obama became president). At another time he said the civilian casualties were in the 2 figures (< 100).
We also held a meeting with a leading human rights fighter and with Fowzia Siddiqui, Aafia Siddiqui's sister.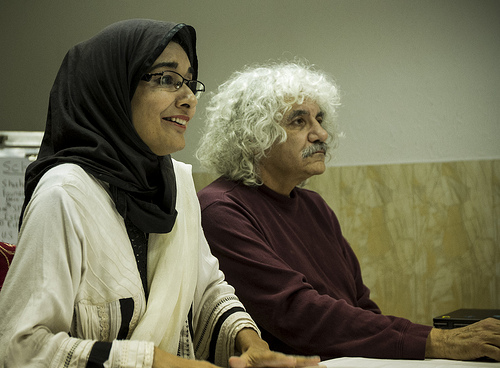 Aafia Siddiqui is a young Pakistani woman who was educated in the U.S. She did undergraduate work at MIT and got doctorate from Brandeis. She eventually returned to Karachi, Pakistan where her family lives. She had 3 children, 2 born in the U.S., making them U.S. citizens. In 2003, Aafia took her 3 children, ages 6 months to 6 years, on a trip to Islamabad and disappeared. The U.S. and Pakistani government both denied having her in custody. Five years passed and her family feared she and her children were dead when they got word from a reporter that she was alive and at Bagram Air base in Afghanistan. NBC news also confirmed this and the U.S. government finally admitted they had her in custody. She was taken to the U.S. and tried for assaulting a U.S. soldier in Ghazni, Afghanistan while she was in custody waiting to be interrogated. During this alleged incident, 4'11" Aafia was shoot twice. She was convicted and is now serving 86 year in solitary confinement at the notorious Carswell prison in Texas. Her family has had almost no contact with her and have been denied the right to visit. Her son Ahmed, a U.S. citizen, was found in 2008 in Ghazni, Afghjanistan. He was then reunited with Aafia's sister, who heads her defense campaign in Pakistan. Aafia's daughter, Maryum, also a U.S. citizen, was mysteriously dropped off in April 2010 near her aunt's house in Karachi after being missing for 7 years. When dropped off, the only language she knew was English, which she spoke with a perfect American accent. Aafia's youngest child, a boy, remains missing and is feared dead.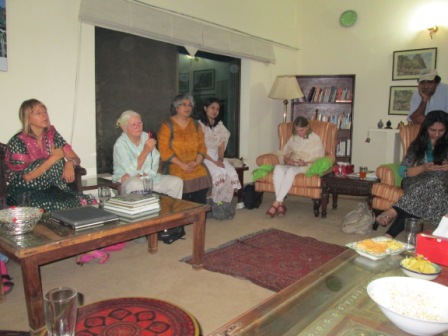 At night, some of us met with members of the newly formed Women's International League for Peace and Freedom (WILPF) chapter of Pakistan. We had a good discussion. One of the themes that came out and that I have heard from others progressive people in Pakistan was that maybe the drones are not that bad. They only hit the "militants" who are violent themselves, and if they were not used, the Pakistani military would have to attack the "militants" and many more would be killed. We explained our view that the so called "militants" were there because of the war in Afghanistan. If you want to end the "militant" actions, you need to stop the war. This theme of the drones not being so bad is one that we heard a number of times in Pakistan from the secular progressive movement who is against the U.S. wars. People we met from the left, such as the Labour Party of Pakistan (LPP), were clear that they were totally against the drones and the wars but they also held a position against the "militants." I had long discussions with them on this. The secular left and the conservative Islamic movement, while agreeing on the need to fight U.S. imperialism, have been mortal enemies and, at times, have physically battled each other. Our delegation got a hint of this at a meeting that the LPP set up for our delegation with the Bar Association of Islamabad, which I will report on later in this article. The people from the LPP whom I spoke with understood why, in the U.S., our focus is totally on U.S. imperialism.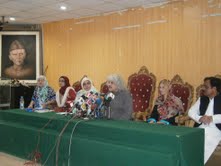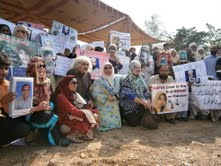 On our second day in Pakistan, I spent a lot of time apart from our delegation. In the morning, Judy Bello and I spoke at a press conference with Fowzia Siddiqui and people from the Committee of the Disappeared. As in Latin American under various dictatorships, people in Pakistan were disappeared as happened to Aafia Saddiqui. Judy and I spoke at the press conference along with Aafia's sister, the woman who heads the Committee of the Disappeared and a couple of other people. There were a lot of media, and they asked a lot of good questions. Outside the press conference, about 100 people, mostly women and children who are family members of the disappeared were waiting for us. We met with them. They wanted to be with us, many were crying. They carried pictures of their loved ones in the hope that it would help them find them. It was one of those situations where you just feel helpless, and there is nothing that you can say.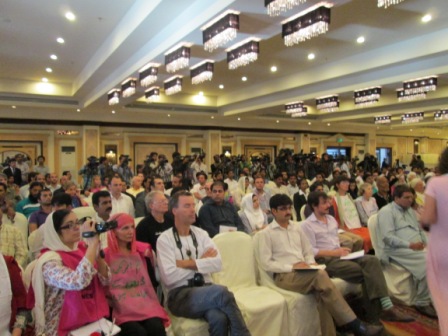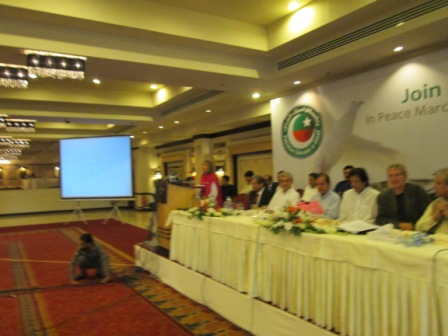 After the press conference and our meeting with the disappeared, we met up with the rest of our group and attended a press conference with Imran Khan. The press conference was huge and had media from all across Pakistan, from the U.S. and around the world. Medea spoke for our group. It was clear to me at this press conference how important our tour to Pakistan was and how glad I was that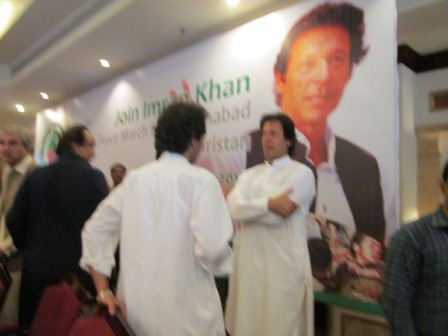 Code Pink had the ability and political clarity to organize it. Our tour raised the profile of the drone issue in Pakistan, the U.S. and other places. It was a big blow to U.S. war policy and put the U.S. on the defensive on this issue. It happened at the very time that a study from Stanford and NYU and another study from Columbia on the use of drone warfare came out condemning drone warfare and explaining the affects on the civilian population. Since then, there have been a number of articles in the corporate media questioning the use of drones.
That night I went to the home of one of the people from the Labour Party of Pakistan (LPP) and met with about 10 people. We had a long informal exchange of ideas. They wanted to know everything about the antiwar movement and the left in the U.S. They told me about their merger plans with two other secular left parties in Pakistan, the Workers Party and the People's Party. This merger is big news in progressive circles in Pakistan, and we heard about it in several places.
On April 9, 2011, when UNAC held demonstrations against the wars in New York and San Francisco, the Labour Party of Pakistan organized solidarity actions in several cities in Pakistan
After our discussion, I was taken to the office of the Tribune newspaper, where I met the staff and editors and had a long interview.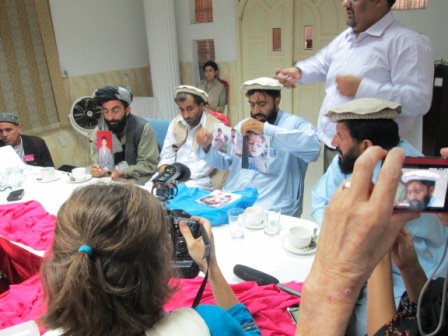 On our third day in Pakistan, we met with a number of men who had had family members killed in drone attacks. They all were from North Waziristan. Before they came, our hosts told us that they may be uncomfortable in a room with both men and women and may not make eye contact with the women out of respect. Most of the talking was done by one man who lost his son and a brother in a drone attack. He was a Malik, a tribal leader. (On the way back from Waziristan I was able to spend over an hour talking to this man one-on-one.)
According to the introduction to the Federal Administrated Tribal Areas (FATA) given by our hosts, these are areas that are part of Pakistan but are autonomous. They have their own governing bodies. The highest governing entity is the jirga, which is a meeting of tribal officials. The main language in Pakistan is Urdu, but in this area the main language is Pashto. The FATA areas of North and South Waziristan are where the drone strikes have taken place, two-thirds of them in North Waziristan.
We learned that drones fly overhead 24 hours a day. People are afraid to congregate, fearing they we be seen as a gathering of "militants" and will be attacked. Children no longer go to school because of fear that they will be attacked. This has caused a lot of psychological disorders in this area, and for the first time in their communities they are seeing instances of suicide. At one point, the regional jirga was targeted and 54 people were killed. Typically, the U.S. and Pakistan don't give compensation when someone is killed by the drones, but in this case they offered $6,000 for each family. This is a lot of money for these people, but it was refused by everyone. They said they want justice, not money.
Also at the meeting was a journalist from North Waziristan who has been documenting the drone strikes. When there is a strike, he gets notified and goes to the site and records who is killed and takes pictures. Some of these pictures were blown up and put on our busses as we rode towards Waziristan the following day. Because of their customs, he is unable to take pictures of women or even record their names, but he has recorded the time and place where 670 women have been killed by the drones. This is far different than what we heard from the ambassador. I tend to believe the journalist from North Waziristan rather than our government who lied to us about weapons of mass destruction in Iraq.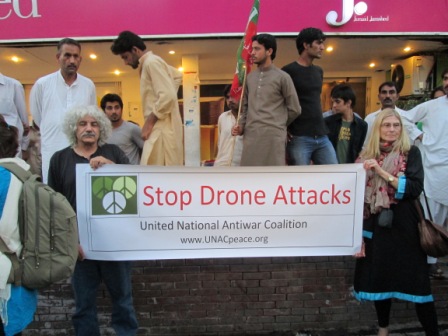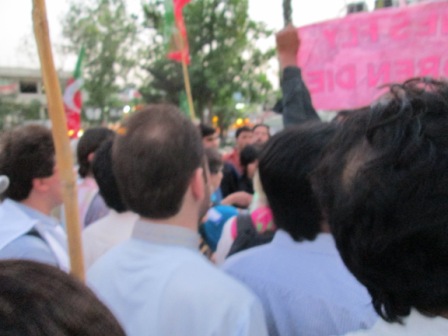 After this meeting, we went with these men from North Waziristan to a rally against drones organized at a close-by shopping area by the youth group of Imran Khan's Justice Party.
We then went back to our hotel to get ready for our journey north to Waziristan the following morning. Before leaving for Waziristan, the U.S. government made one last attempt to stop us. The ambassador called and told us that they had received "creditable reports" that if we were to go to Waziristan, we would be attacked. To me, this indicated the power of our march to Waziristan. All three tribal leaders in South Waziristan wanted us to come. They said we were their guests and would be protected. This march included Americans and Pakistanis and was supported by those in the tribal areas. It indicated that we all want peace, so it raised the question, why do we have war?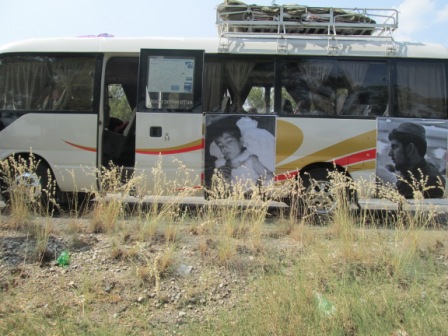 On Saturday morning we boarded our busses to meet up with Imran Khan's convoy to head to South Waziristan. Almost immediately, everything fell apart. We were supposed to by right behind Imran Khan, but never quite got into that position. At times on the way north, we seemed to lose the caravan and then would meet up with it again later. The caravan went through poorer rural areas and beautiful landscapes. At times when we were separated, our hosts got concerned and asked us to close the curtains on the busses and make sure that the women had their heads covered.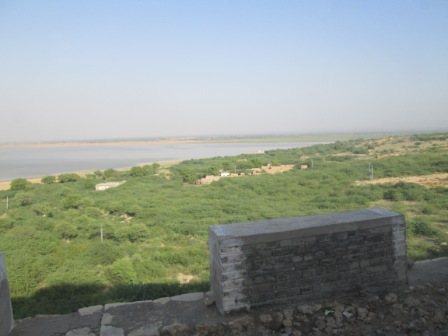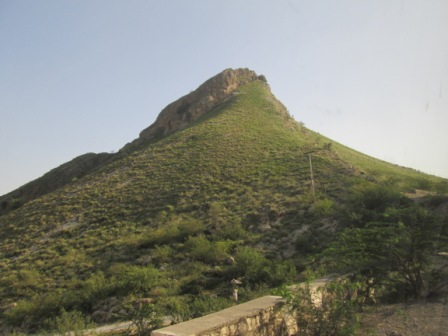 As we passed through towns on the way north, we were met by crowds of members of Imran Khans party. The convoy stopped at several of these towns and held anti-drone rallies. Because we were not up front near Imran Khan in the convoy, we did not hear or participate in these rallies, but the crowds remained, knowing that our busses would pass by them. When we did pass them, they cheered and flashed peace signs.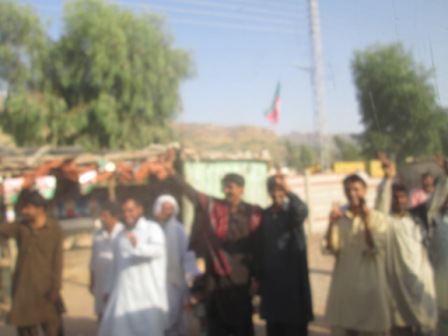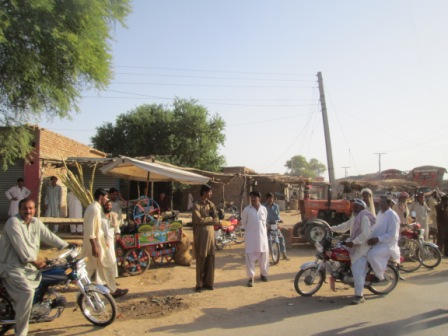 We reached our destination for the night very late, around midnight. We stayed in the compound of a big farm about 10 km (around 6 miles) from the border with Waziristan. Outside and inside the compound were crowds of people spending the night, getting ready for the trip across the border. As we walked from our busses into the compound, we were treated like heroes. People shouted welcome and peace. Everyone wanted to take a picture with us. We were fed a meal at midnight and held a meeting. Some were concerned that the security that we were supposed to have on our ride to the border never materialized and wanted to make sure that it was rectified in the morning.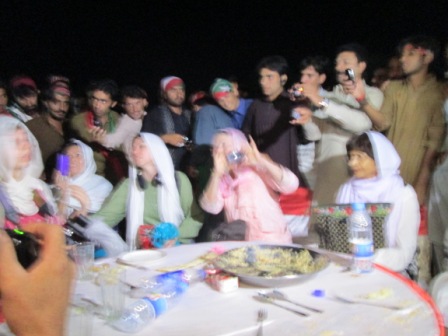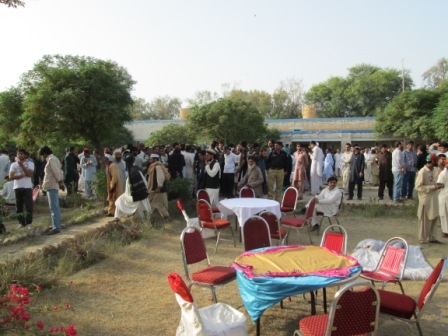 That night we learned that the military had blocked the roads into Waziristan with big storage containers and would not let us cross the border. They said that this was for our own safety. Imran Khan was determined to make an effort to cross the border despite the containers. In the morning he met with our group and leaders of his party, and our hosts encouraged us not to go with him the extra 6 miles to the border. If we were stopped by the containers, they understood that it would be difficult to turn all the cars in the large caravan around, and there would be a massive traffic jam.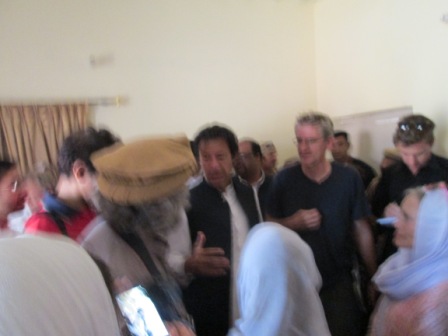 In this situation our safety might be of concern. Instead, before leaving they organized a big rally at the compound where Imran and Medea spoke to cheering crowds shouting "Welcome," "Peace," and "Stop, stop, stop drones attacks." This rally was held on October 7, the 11th anniversary of the invasion of Afghanistan as demonstrations were taking place in the U. S. and other parts of the world.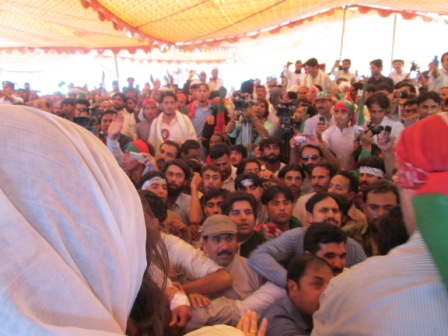 It was understood that the political power of this trip with our delegation had already been achieved, and therefore, the risk was not worth it at this point. So after the caravan cleared out of the compound heading north, we left and headed south accompanied by a police escort all the way back to Islamabad.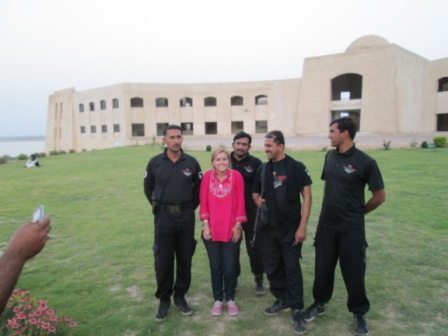 On the way back to Islamabad, we stopped at a rural college that was built by Imran Khan. This was a college of engineering and computer science he established primarily for those who might otherwise not have access to higher education. Ninety percent of those attending are there on scholarship. It was meant to be the first of many schools accessible to everyone within a "city of knowledge" envisioned by Imran Khan. We also were told about a cancer hospital he'd built at which anyone could obtain treatment, whether they could afford it or not.
After returning to Islamabad, we rested. The next day, Monday, was a slow one. We did have a follow-up meeting with the Ambassador. Only six of us, including me, attended this meeting. We asked him to hear the evidence we had of Pakistani civilian deaths from U.S. drone attacks. He said he would. Some people in our group felt the Ambassador opened up to us more on this occasion than is usual. At times, he asked us to turn off the recording devices so he could say something off the record. However, he stuck to the line that there were almost no civilian deaths and that if there were, they were anomalies. I did not have much hope that our talk with the Ambassador would advance our cause at all.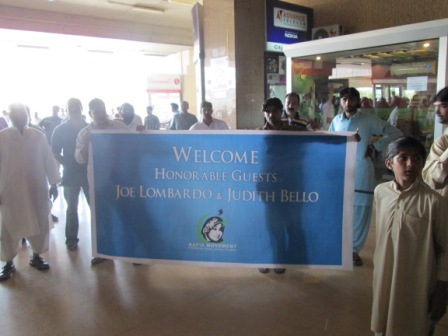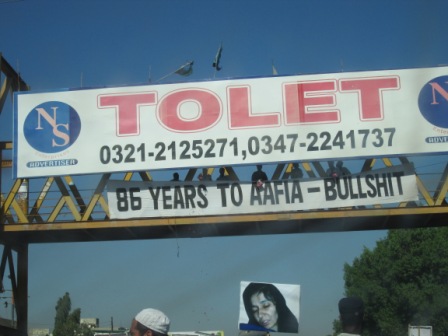 On Tuesday and Wednesday, Judy Bello and I separated from the group to spend a day in Karachi with the Aafia folks and another in Lahore with the LPP folks. When we got off of the plane in Karachi, we were met by a group of people holding a big banner stating, "Welcome to our honored guests, Joe Lombardo and Judy Bello." We were taken by car to Aafia's home to meet her mother and children. All along the road, we saw banners and wall writing in honor of Aafia Siddiqui. My favorite sign said, "86 years to Aafia – bullshit." At one point, there was a truck in the middle of the road surrounded by people and cars. The truck had speakers on it that were playing a song sung in Urdu. It was a popular folk song written about Aafia. Our car fell in behind the sound truck and started a caravan to Aafia's house. As we got closer, the road became packed with people welcoming us, waving, chanting, giving peace signs, and throwing flowers. The major road we were on was taken over by this crowd, and our car went along with them at a slow pace. At one point I got out and walked with the crowd. The police escorted us and smiled and waved at us. As we got closer to Aafia's home, we saw that her entire street had been plastered with huge pictures of demonstrations held across Pakistan and in other countries demanding her release. There was one picture of a demonstration in Pakistan that we were told was attended by over a million people.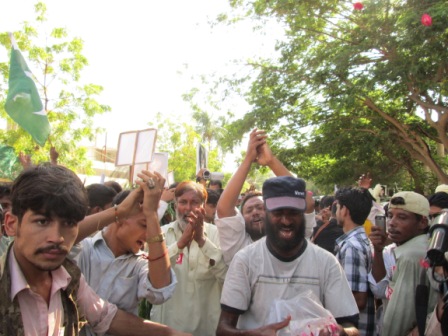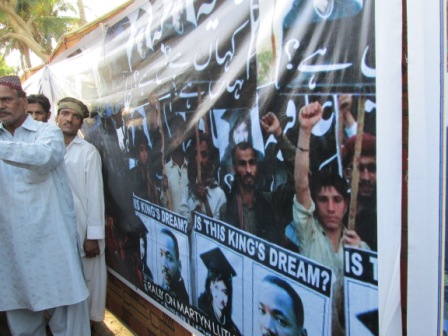 We held a well-attended press conference at Aafia's house and met her mother and her son and daughter. As always, they fed us till we could not look at food anymore.
After meeting the family, we were taken to the University of
Karachi, where Judy and I spoke to a lecture hall full of students and answered questions.
It was a very good exchange, and they were friendly and happy to see us, but the questions brought home once again how much people hate the U.S. government and don't understand why it does such terrible things.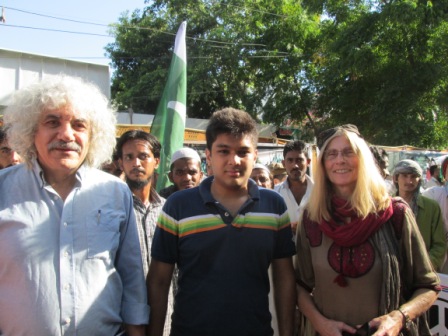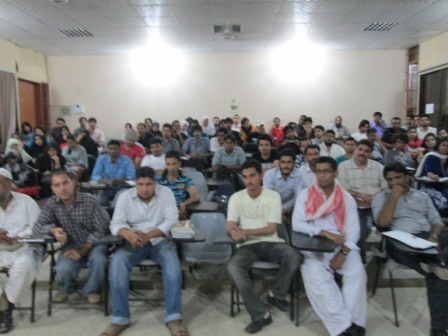 After the University meeting, we were taken to meet the Pakistani 1%. We were brought to an exclusive club on the ocean and sat at a table with the big owners of the textile mills and other industries in the industrial city of Karachi. Aafia's sister, Fowzia, explained that they hoped to get money from these people for their campaign. These people knew about our delegation and the trip to Waziristan with Imran Khan. They were very interested in what we had to say, and they too expressed confusion and anger towards the policies of the U.S. government.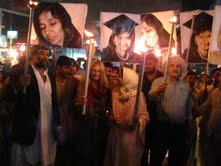 On the way back from this meeting, we were taken to a commercial area near the docks. There we found the sound truck again playing Aafia's song and a crowd of young men demonstrating for her freedom. Once again, we were greeted like heroes. We all got out of the car and marched with the protesters. We carried lit torches through the streets.
On the last day of our trip, October 10th, we flew to the city of Lahore, near the border with India. Members of the LPP met us and took us to a hotel, where we rested for a few minutes before we were picked up by Farooq Tariq, one of the LPP leaders.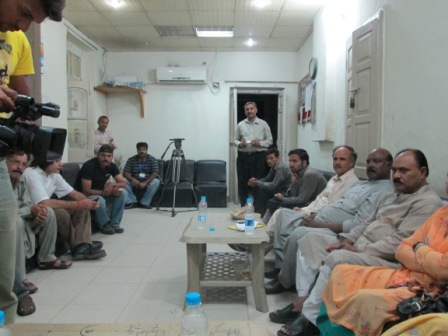 We were taken to the Lahore headquarters of the LPP, where we had an informal discussion with a group of members, and then went to a meeting with the Punjab Union of Journalists. We were also interviewed by some journalists from U.S. media. But the meeting had to be cut short because, as the world knows, on this last day of our trip, which had gotten daily headlines in the Pakistani media, a 14 year old girl, Malala Yousufzai, was shot by the Taliban. Demonstrations against the shooting were quickly organized. Judy and I attended two of them organized by the LPP and other groups in Lahore. At the same time, the rest of our group attended a similar demonstration back in Islamabad.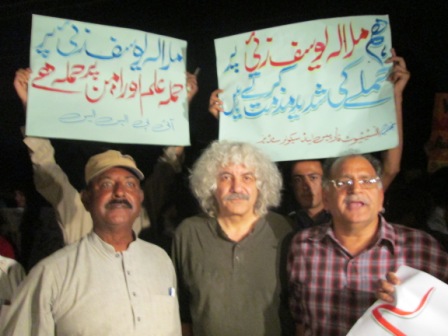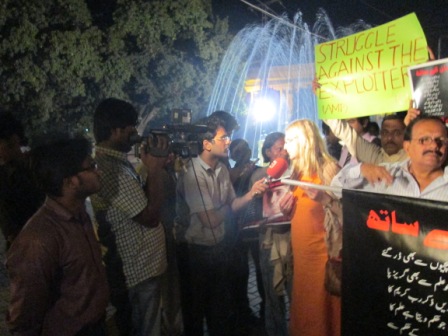 One other incident occurred with our group back in Islamabad while Judy and I were in Lahore. Lawyers who are members of the LPP organized a meeting for the group at the Bar Association in Islamabad. There had been some tension among members of the Bar Association, some of it centered around a case that some of the lawyers were defending. A while ago, the governor of Punjab province came out publically for getting rid of Pakistan's blasphemy laws. After this, he was shot and killed by a police officer. The police officer was caught and is now on trial. Some of the conservative lawyers supported the action of the police officer and are defending him. These lawyers decided that Americans should not come to the Bar Association and tried to block the group. There was a verbal confrontation but they backed down and the meeting went on over their objection.
While we were on our way to Waziristan on October 6th and 7the, there was a meeting held in Lahore with 100 representatives of progressive secular groups from Pakistan and Afghanistan. There were around 80 people from Pakistan and 20 from Afghanistan at this meeting. The people from the LPP saw this as a very important meeting, as did I. They told me that they want to work closely with the U.S. antiwar movement.
The trip to Pakistan was very important, in my opinion, in building the U.S. and Pakistani movement against the drones and the wars. It showed people in Pakistan that not all Americans are bad. We got tremendous publicity throughout Pakistan and were even able to break into the U.S. corporate media as well as media around the world. Drones are now on people's radar (no pun intended) as never before inside the U.S. and Pakistan. Our 31 activists can now bring this message of peace and no-drones back to our communities and build a stronger movement. Code Pink is to be applauded for organizing this trip, and we all need to read Madea Benjamin's book, Drone Warfare, Killing by Remote Control, to further arm ourselves for the struggle ahead.
Click here for the Facebook UNAC group.
---
---
To remove yourself from the UNAC listserv, please send an email to: UNAC-unsubscribe@lists.riseup.net
To add yourself to the UNAC listserv, please send an email to: UNAC-subscribe@lists.riseup.net