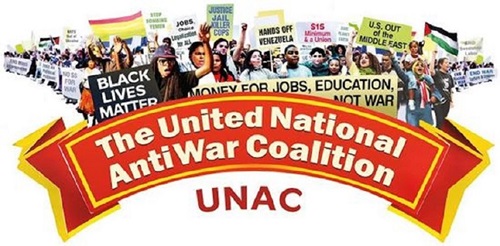 Dear Friends,
As we come to the end of another year with the escalation of wars at home and abroad, UNAC asks you to donate generously to keep our urgent work going and to keep the antiwar movement strong (https://www.unacpeace.org/donate.html). UNAC is a broad coalition of peace and justice activist organizations. We are growing, but we depend on the support of people like you to build the kind of united mass movements that can truly make a difference.
This past year has been a very busy one for us, starting with helping to build the mass marches to protest the new administration's hawkish, racist and sexist policies.

We held our national conference in June in Richmond, VA, our first conference in the South, where we heard from leaders of antiwar and social justice movements in the U.S. and abroad. Only days later, many of us returned to Charlottesville, VA to counter the mobilization of White Supremacists in that city. On the following weekend, UNAC supporters and others were charged with taking down a confederate statue in Durham, NC. Several people are now charged with serious offenses for their action and we are doing our best to defend them.

Our work with the Hands off Syria Coalition, a group that UNAC helped found, continues and we recently helped launch a new coalition against U.S. foreign military bases, which will hold an important conference in January in Baltimore (http://noforeignbases.org). We also support those who are being victimized by U.S.-backed fascist attacks in Odessa, Ukraine through the Odessa Solidarity Committee, which UNAC initiated.

We issued a call for actions on the 16th anniversary of the war on Afghanistan, the longest foreign war in U.S. history, and almost ignored by the media. Thirty-four actions took place around the country (http://notowar.net). We protested the U.S. aggression towards Venezuela, North Korea, Yemen and other areas of the world, and we will always organize to call attention to the hotspots of human misery and potential new wars caused by U.S. or proxy interventions.

UNAC leaders were represented at important international gatherings of antiwar activists in 2017. We spoke at anti-NATO protests and conferences in Brussels as NATO gathered there to make new war plans. We spoke at the International Festival of Youth and Students in Sochi, Russia and at university meetings in Moscow to Russian and international audiences who were opposing war and U.S. aggression in their own countries. We also spoke at an international conference sponsored by the League of People's Struggle in Toronto. UNAC leaders were present in the Philippines standing with thousands of Filipinos to protest U.S. neo-colonial policies as Trump landed in that country to meet with their right-wing president Duterte.

We offered two panels at the Left Forum in New York and continued our work in support of Palestinian rights and in solidarity with recently deported Palestinian rights activist Rasmea Odeh. We protested police murders and immigrant detentions and deportations, and we continued our solidarity work with political prisoners such as Aafia Siddique, Mumia Abu Jamal, Rev. Edward Pinkney (now released) and the hundreds of Muslim political prisoners who are in U.S. prisons and largely ignored. And we marched with millions in anti-inaugural and other protests against the Trump administration's policies throughout the year.

Last but not least, UNAC created a new blog (https://unac.papillonweb.net/) which contains an array of important articles and analysis from UNAC members and supporters.

Charlottesville anti-racist counter protest

With the Trump administration stepping up threats, troops levels, and military spending abroad, their global attacks on the environment, and on all levels of society at home, 2018 will prove to be an important year for UNAC and your support is essential. UNAC does not get funds from outside organizations or grants. You can make a contribution to UNAC here https://www.unacpeace.org/donate.html. Please donate generously.
In solidarity and peace,
Joe Lombardo and Marilyn Levin, UNAC Co-Coordinators
UNAC's 10 Principles of Unity. (See the full document on the UNAC website: http://UNACpeace.org.)
1 - Opposition to all U.S. wars and interventions
2 - Support for the right of all oppressed peoples to self-determination
3 - Connect the issues at home and abroad
5 - Independence from the parties of Big Business
6 - Mass mobilizations as a primary means of struggle
7 - Quick response to events at home and abroad
8 - Defense of civil liberties
9 - Mutual defense
10 - Commitment to a democratic decision-making process
If you agree with these principles, and if your organization is not a member of UNAC, we urge you to join. It is only by working together that we can end the wars at home and abroad. Your organization can join UNAC and you can add yourself to our email list by going to the UNAC website at http://UNACpeace.org. While there, also check out our new blog where members and friends can post articles on events of the day.
UNACpeace.org UNACpeace@gmail.com
To unsubscribe from this list, please send an email to UNAC-unsubscribe@lists.riseup.net