UNITED NATIONAL ANTIWAR COALITION (UNAC)
Statement Condemning Amnesty International USA's
Campaigns in Support of U.S./NATO Wars
UNAC urges antiwar and community activists across the U.S. to condemn a sharp change in the direction and character of the campaigns of Amnesty International USA, especially since the hiring in January, 2012 of Suzanne Nossel as Executive Director.  Nossel is a former State Department official and aide to former UN Ambassador Richard Holbrook. She coined the term "Smart Power," which embraces the United States ' use of military power as well as other forms of "soft power," an approach which Secretary of State Hillary Clinton announced at her confirmation as the new basis of State Department policy.
Amnesty International has been well-known for its and its support for human rights and its campaigns to free political prisoners around the world.  However, Amnesty International USA's top two campaigns at the moment openly support U.S. foreign policy and U.S. military propaganda.
For example:
During the NATO summit and at the same time as the international rally and march to protest NATO, Amnesty International launched a campaign at a public meeting, headed by former Secretary of State Madeline Albright, for Human Rights for Women and Girls in Afghanistan with the slogan "NATO: Keep the Progress Going". Following an avalanche of negative feedback, they dropped the slogan as a "mistake", but their pro-war campaign continues. Madeline Albright is a war criminal, notorious for her televised response that the death of half a million children in Iraq from sanctions was "worth it".                                               
                UNAC stands with the courageous Afghan women like former Parliamentarian Malalai Joya who said, "We have many problems in Afghanistan — fundamentalism, warlords, the Taliban. But we will have a better chance to solve them if we have our self-determination, our freedom, our independence. NATO's bombs will never deliver democracy and justice to Afghanistan or any other country".<![if !vml]>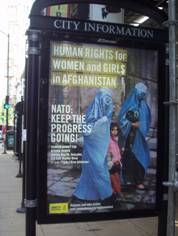 <![endif]>

Amnesty's latest campaign, is Russia: No more excuses. Stand up against the bloodshed in Syria which asks people to "urge Russia to end its shameful silence".  This is a campaign to support military intervention at the very time that the U.S. is openly feeding the violence in Syria by providing weapons, foot soldiers and logistical support. Russia has angered U.S. officials, not by silence, but by rejecting foreign intervention.
In opposition to these two Amnesty International USA campaigns:
UNAC expresses our sincere disappointment to see Amnesty International USA campaigns become a propaganda extension of U.S. goals for global hegemony.
· UNAC condemns the Amnesty International "NATO Keep the Progress Going" campaign and the dishonest formulation of their campaign for Human Rights for Women and Girls in Afghanistan.  In fact, conditions of women in Afghanistan have deteriorated, not improved, since the Occupation which the U.S. intends to maintain.
· UNAC expresses our strongest criticism towards Amnesty International's decision to directly provide support and encouragement to a racist NATO campaign under the leadership of the war criminal Madeline Albright.
· UNAC decries any "human rights" campaign that assumes that a military occupying force is a necessary prerequisite for peace and justice to any member of society.
Further,
UNAC demands that Amnesty International USA's Board of Directors reaffirm its human rights mission and publicly disassociate from the policies and campaigns which support U.S./NATO war crimes, crimes against peace and crimes against humanity.
UNAC demands that AI USA revoke the employment of Suzanne Nossel and other officials and Board Members who support the current pro-war policy.
Link to article by Ann Wright and Coleen Rowley: http://consortiumnews.com/2012/06/18/amnestys-shilling-for-us-wars/