UNAC Statement on the Charlotte Police Shooting & Rebellion
<![if !vml]>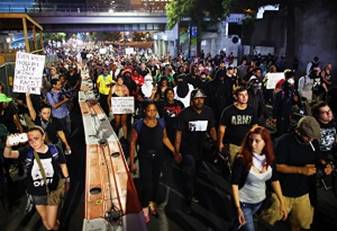 <![endif]>
After several days of militant protests in Charlotte, N.C., following another fatal police shooting of a Black person, one thing is clear: The only question for the police and the city, state and federal governments is how to calm down the righteous anger of the community, not how to pursue justice for Keith Lamont Scott.
On Tuesday, Sept. 20, Mr. Scott was shot to death by police who were in his neighborhood to serve a warrant on another individual. Mr. Scott was Black, as is the officer who killed him, Brentley Vinson.
According to his family, Mr. Scott was sitting in his car, reading a book, waiting for his son to return from school. Police officers, some of whom were not in uniform, approached his vehicle, demanded he "drop the gun" and yelled at him to get out of the car. Mr. Scott stepped out of his car. Four shots rang out and the married father of seven children lay on the ground, dying.
The killing of Mr. Scott and the refusal of Police Chief Kerr Putney to release the videos to the media or the public ignited a firestorm of protest.
On the night of the killing, protesters marched along upscale Tryon Street. Windows were broken. Storefronts were liberated of their goods. Bottles and other objects were thrown at police. Someone shattered a hotel window while others threw rocks through it. "Black Lives Matter" was spray-painted on business facades. A police car was trashed. Many of the confrontations took place near the intersection of Trade and Tryon streets, the trendy heart of the city that is known as the banking and financial center of the South. Protesters also shut down Interstate 277. The city's light rail was halted just before midnight. The protests continued until at least 3 a.m.
Police deployed tear gas, clubbed protesters and arrested at least 44 people in a rebellion reminiscent of those that took place in Ferguson, Mo., in August 2014, and in Baltimore in April 2015. At least nine civilians and five police officers were injured. Charlotte resident Justin Carr, 26, died from a gunshot wound as police clubbed protesters. City officials claim he was shot by another civilian.
After more protests the following day, Mayor Jennifer Roberts declared a state of emergency with a midnight-to-6 a.m. curfew. Hundreds of National Guard troops and State Police were called in. But on the evening of Sept. 23 the community ignored the curfew, continuing protests into the early hours of the morning.
National Public Radio reported that hundreds of people marched through downtown, "stopping at government buildings and the city jail, where prisoners inside banged on their windows and flashed the lights in their cells.'" Videos posted online show a multi-racial, predominantly Black crowd of marchers.
Chief Putney promised more repression, with more police, helicopters patrolling the streets from above and more than 1,000 police cameras, but the protests continued Friday night with a dozen more arrests, and then with a mass march and rally on Saturday, Sept. 24.
On that date Chief Putney finally relented and agreed to release the police videos.
How widespread are police killings of civilians in the United States? The government doesn't know. Just as the Pentagon does not keep track of how many people it kills in the wars in the Middle East, the U.S. Justice Department does not keep statistics on how many people in this country are killed each year by police.
In 2013 the Malcolm X Grassroots Movement first counted law enforcement and vigilante killings of Black people in the U.S. and concluded that there was one such killing every 28 hours.
The (UK) Guardian has an ongoing project counting the number of people killed in the United States by police. The newspaper reports that in 2015 the number was 1,146. Of these, 581 were white, 306 were Black, 195 were Latino/a, 28 were Asian or Pacific Islander, 13 were Indigenous and 23 were "Other" or "Unknown."
But when looked at in terms of each race's percentage of the overall population, Blacks were the largest number: 7.66 per million Black people. For Indigenous people the figure was 5.49; Latino/as 3.45; whites 2.93; and Asian/Pacific Islander 1.34. So while more whites were killed than Blacks, Blacks were nearly three times as likely to be killed as whites.
With the now widespread use of video cameras and social media, many more suspicious police killings of Black people are being exposed, creating a growing national sense of outrage and anger that threatens to boil over into mass rebellion.
This is the real fear of the country's 1 percent and the nearly 1 million uniformed police officers whose mandate it is to enforce "law and order" - meaning the status quo, meaning an inherently unjust system founded on the super-exploitation of Black labor. Today that system continues to depend on the extraction of super-profits from the underpaid work of Black, Latino/a, Asian, Indigenous and poor white workers.
The ruling elite is thus caught in a dilemma: the top bankers, corporate bosses and others of the super-wealthy know they need to continue this super-exploitation in order to maintain their profit levels and so have no intention of moving to a truly just economy and society. They also know that this systemic injustice inevitably produces rebellions, and they must rely on the police, the National Guard, the courts, prisons and ultimately the military to protect them and their property. Although they occasionally will indict an officer in a particularly grievous case, they know that too much disciplining of killer cops will run the risk of the police becoming less inclined to risk their lives for the wealthy.
Given this dynamic, there will be no real justice from a system founded on the oppression of Indigenous people, people of color, and the poor which depends on the continuance of that oppression for its very survival.
Does that mean there is no hope? Of course not. As long as there is struggle, there is hope. We can support and participate in all protests against police killings. We can refuse to give any credence to what the police and elected officials say until there can be an independent community investigation into the events. We must continually demand amnesty for all those who risk their freedom and their lives protesting against police killings.
The U.S. Department of Justice has the power to prosecute police. The Los Angeles rebellion in 1992 after the acquittal of police in the Rodney King beating resulted in federal charges, convictions and jail terms for two of the officers. The Obama DOJ has not prosecuted one killer cop and pretends that the burden of proof is too high for it to act when there is precedent for prosecution. While ordinary people and newspapers do their own counting, the DOJ refuses to develop a means of doing what they have the resources and power to do.
We should continue to fight for police reforms: popularly elected civilian community review boards with the power to subpoena police for questioning, suspend abusive cops - without pay - and hire and fire and prosecute officers; requirements that police live in the cities they patrol; mandatory use of body and dashboard cameras; immediate release of videos of police shootings and cases of abuse. We must call for an end to racial profiling and the militarization of the police and demand accurate documentation of cases. Those would all be legitimate demands focused on police reform, transparency and civilian control.
But even these reforms do not address the historic and current systemic racial oppression of the police in enforcing white-supremacist class rule. This will take a militant, mass movement combining mass protests and rebellions with an economic offensive, such as political boycotts and strikes.
Such a movement must inevitably come face-to-face with the fundamental question of changing society itself from one based on profits enforced by naked police brutality into one created to serve the people.
INDICT KILLER COPS!
FEDERAL PROSECUTIONS!
RELEASE & DROP ALL CHARGES AGAINST CHARLOTTE PROTESTERS!
END THE STATE OF EMERGENCY & REMOVE THE NATIONAL GUARD!
REAL COMMUNITY CONTROL OF THE POLICE!
PEOPLE BEFORE COP-ENFORCED PROFITS!
9/26/16