(please forward widely)





Report of Malalai Joya's Tour of U.S. on Afghanistan War
By Jeff Mackler
Co-sponsored by the United National Antiwar Coalition (UNAC) and the Afghan Women's Mission (AWM), Afghanistan's leading antiwar, social justice and women's rights activist, Malalai Joya, toured ten U.S. cities and spoke at some 65 events in the course of her October 1 - 27, 2013 national tour.
The tour was organized to focus national attention on the ongoing U.S. war and occupation of Afghanistan, now beginning its 13th year – the longest war in U.S. history. Joya repeatedly called into question the U.S. assertion that U.S. participation would end in 2014, noting that nine permanent U.S. bases have been established, thousands of U.S. troops are set to remain along with tens of thousands of "personnel" in the U.S.-financed and "privatized" (mercenary) army. Joya demanded the immediate withdrawal of all U.S./NATO occupation forces from Afghanistan. She repeatedly insisted that, "No people can be liberated by foreign intervention. Freedom, justice and peace can only be achieved by our people themselves."
Afghanistan, as Joya vividly described in her speeches and video presentations, is today ranked as the worst place on earth for women, who are victimized by a combination of the U.S. occupation, the corrupt U.S.-backed "mafia" Hamid Karzai government and the fundamentalist and misogynist Taliban. She scored the present U.S.-backed efforts to form a new government that included the now warring Taliban and representatives of the present Karzai warlord regime.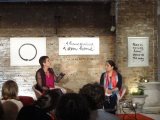 (with Eve Ensler in New York)

Author of the widely-acclaimed 2008 book, "A Woman Among Warlords: The Extraordinary Story of an Afghan Who Dared to Raise Her Voice," Joya was interviewed by numerous media in the course of her tour, including The Nation magazine, Democracy Now!, The Huffington Post and several other university, college and community radio and television stations.
Joya, called by many "the bravest woman in Afghanistan," was elected to and served in the Afghan Parliament from 2005 to 2007 but dismissed following her denunciation and exposure of widespread warlord and drug lord corruption among members of this U.S.-backed parliament.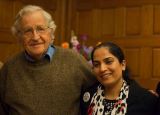 (with Noam Chomsky in Boston)

UNAC tour organizers estimate that she addressed enthusiastic audiences totaling four thousand people. Highlights of the tour were well-attended public meetings with Noam Chomsky in Cambridge, Eve Ensler, author of the "Vagina Monologues," in New York City and a standing room only campus/community meeting at Berkeley Community College of 350.
Most of the tour meetings drew audiences of 100-300 including in Albany, New York; Minneapolis, the San Francisco Bay Area, Los Angeles, San Diego, Madison, Wisconsin, and New York City. Similar successful events were organized in Amherst, Massachusetts and in Chicago.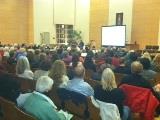 (a meeting in Albany)

Thousands of activists signed the mailings lists of UNAC and the Afghan Women's Mission. An estimated 400 copies of Joya's book were sold and another 700 distributed free to university students, where departments sponsored special meetings to hear Joya and assigned students to read her book in advance of the tour.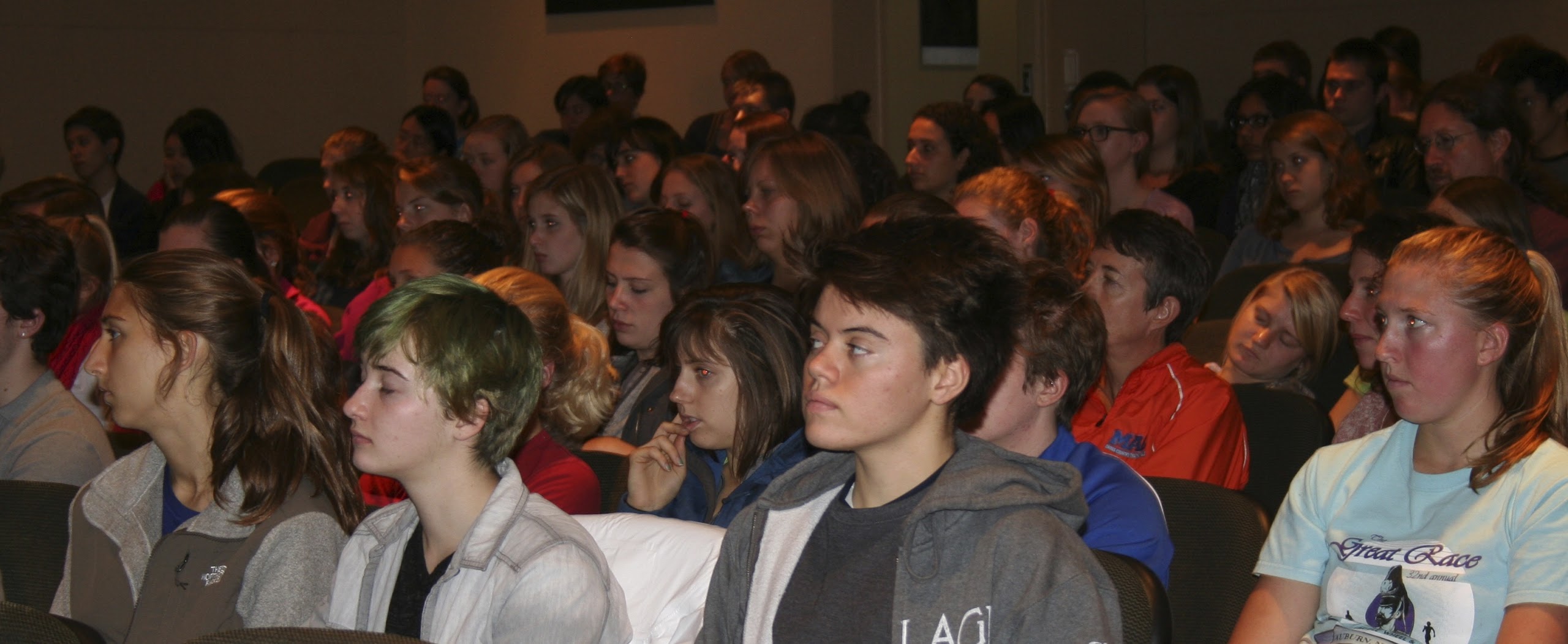 (a meeting in the Twin Cities)

Many thousands of dollars were raised to support the work of the Afghan Women's Mission, the Los Angeles-based non-profit that supports Joya's work on behalf of women and that provides funds for her physical defense. Malalai Joya, who lives in difficult and near-underground conditions in Afghanistan, is compelled to move every week or so from one location to another. She has survived seven assassinations attempts to date and is always accompanied by armed bodyguards.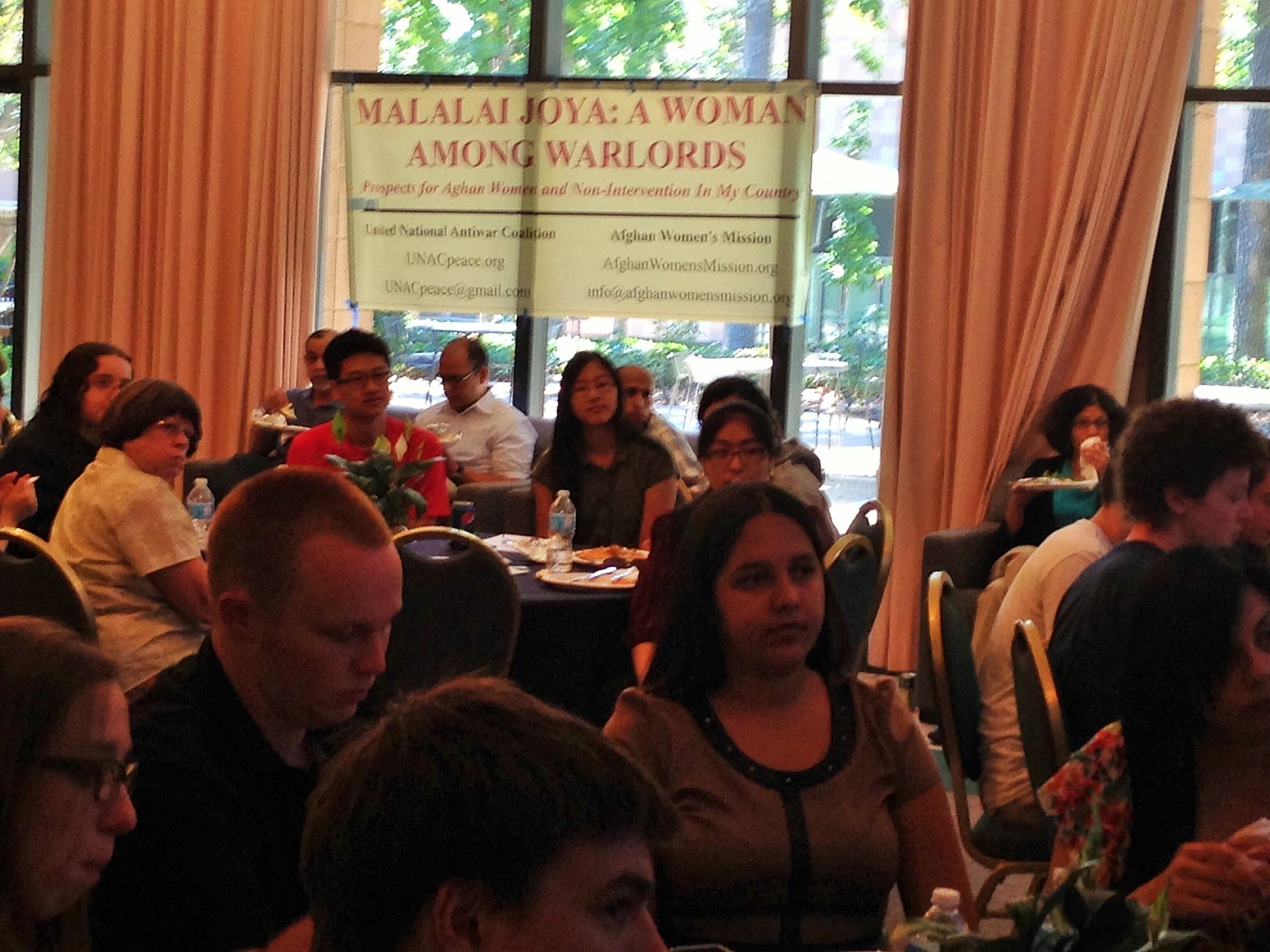 (a meeting in Los Angeles)

The UNAC-AWM tour brought new forces into the antiwar and social justice movements across the country and closely collaborated with a wide range of national and local organizations that helped to ensure the tour's success. Sixty activists from scores of organizations participated in the daily work of organizing the tour. UNAC emerged once again as the nation's broadest and leading mass action coalition standing in opposition to all U.S. wars, interventions and occupations.
Jeff Mackler is a member of UNAC's National Administrative Committee and served as the National Coordinator of the Malalai Joya National Tour Committee
Click here for the Facebook UNAC group.
---
---
To remove yourself from the UNAC listserv, please send an email to: UNAC-unsubscribe@lists.riseup.net
To add yourself to the UNAC listserv, please send an email to: UNAC-subscribe@lists.riseup.net