REPORT ON THE
'STOP THE WARS AT HOME & ABROAD!'
NATIONAL CONFERENCE
May 8-10, 2015, Secaucus, N.J.
By the 2015 Conference Organizing Committee
Against a background of seemingly endless U.S. wars abroad and growing domestic movements against racist police killings, low wages and devastating climate change, more than 400 activists gathered just outside New York City May 8-10 for a "Stop the Wars at Home & Abroad!" conference that ratified an Action Plan addressing both domestic and international issues.
Sponsored by the United National Antiwar Coalition (UNAC), the conference, held at a hotel in Secaucus, New Jersey, brought together a wide range of activists, from those who primarily concentrate on international issues to mostly younger activists in the emerging movements such as Black Lives Matter, Fight for $15 and environmental change.
Conference delegates came from 29 states, as well as Canada, Britain, Germany and Ukraine. A number of now-U.S.-based activists represented struggles in their home countries of Colombia, Haiti, Honduras, Iran, Mexico, Palestine, the Philippines, Puerto Rico, Syria and Venezuel also attened.
Solidarity messages were received from Cuba, Ireland, New Zealand and Russia.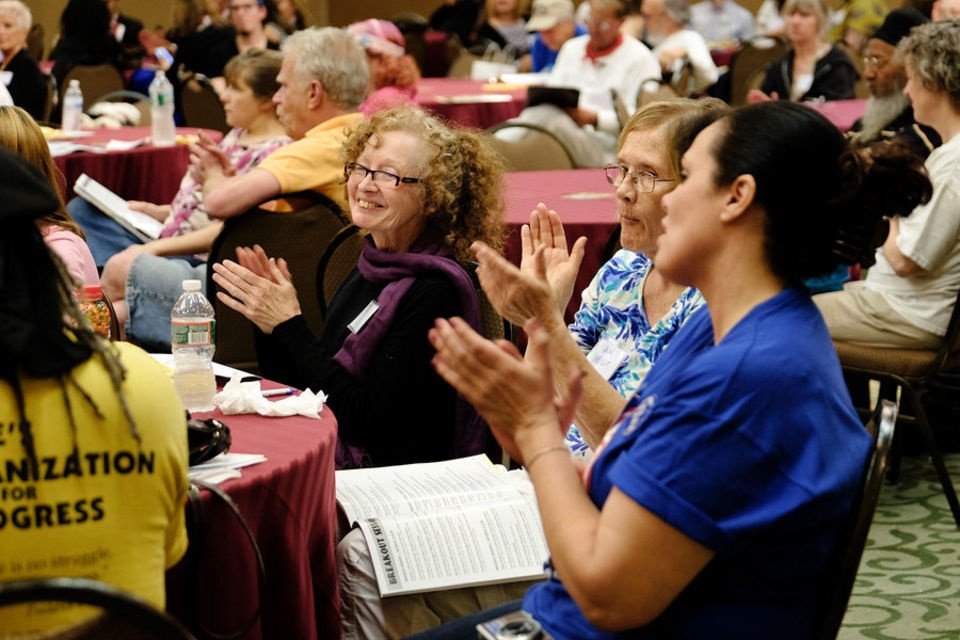 A total of 116 organizations participated in the conference. There were more than 100 speakers, more than half of whom were people of color and women. There were six plenary sessions, 31 workshops and a Saturday night "Tribunal on the Militarization of the Police & Structural Racism."
Linking up the issues
While UNAC conferences have always addressed domestic issues, this one was unique in that it was the first time a national antiwar gathering so clearly took up the need to oppose the war being waged against oppressed communities in the United States. A central theme of many panels and workshops was support for the resistance of Black youth standing up to the epidemic of police brutality.
In the opening plenary session, Jaribu Hill, founder of the Mississippi Workers' Center for Human Rights, delivered a stirring call for solidarity with young activists. Declaring that resistance to the status quo is the only way forward, she called the youth who rebelled in Baltimore "young Steve Bikos and Harriet Tubmans."
Another especially dynamic speaker was Lawrence Hamm, founder and Chair of the People's Organization for Progress (POP) in Newark, N.J. Explaining that we are really fighting one war on many fronts, Hamm called on those present to oppose "all U.S. boots on the ground, defeat the Trans-Pacific Partnership, fight union busting and other attacks on the working class at home and challenge white-supremacist attacks on Black and Brown people!"
As part of the conference's Action Plan, participants endorsed the POP-initiated "Million People's March Against Racial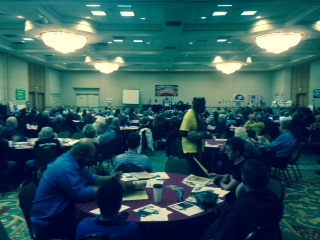 Injustice and Economic Inequality" planned for July 25 in Newark.
Other New Jersey organizations with speakers at the conference included Action 21, the Jersey City Peace Movement and New Jersey Peace Action.
Opposing the wars abroad
On the international front, conference participants heard from longtime antiwar activist Kathy Kelly of Voices for Creative Nonviolence, who recently completed a three-month prison sentence for protesting U.S. drone warfare. Kelly compared the reaction of the U.S. public to reports of beheadings by the extremist group ISIS to its muted reaction to the murder of thousands of surrendering Iraqi soldiers in 1991 and the deaths of more than a half-million Iraqi children from U.S.-imposed sanctions.
Other antiwar speakers included Kazem Azin of Solidarity Iran; Medea Benjamin of Code Pink; Maurice Carney of the Friends of the Congo; Bruce Gagnon of Global Network Against Weapons & Nuclear Power in Space; Malachy Kilbride of the National Campaign for Nonviolent Resistance; Ed Kinane of the Upstate (N.Y.) Drone Action Network; Ray LaForest of Haiti Support Network; David Swanson of WarBeyondWar.org; and Kevin Zeese of PopularResistance.org.
The conference also heard from retired U.S. Col. Ann Wright, former CIA analyst Ray McGovern and former U.S. State Department official Peter Van Buren, all of whom are now prominent opponents of U.S. wars.
A Message from Cuba
The entire conference was exciting, but there were several especially high points.
On Saturday afternoon, the conference received a message from Kenia Serrano Puig, President of the Instituto Cubano de Amistad con los Pueblos (Cuban Institute for Friendship with the Peoples, or ICAP), an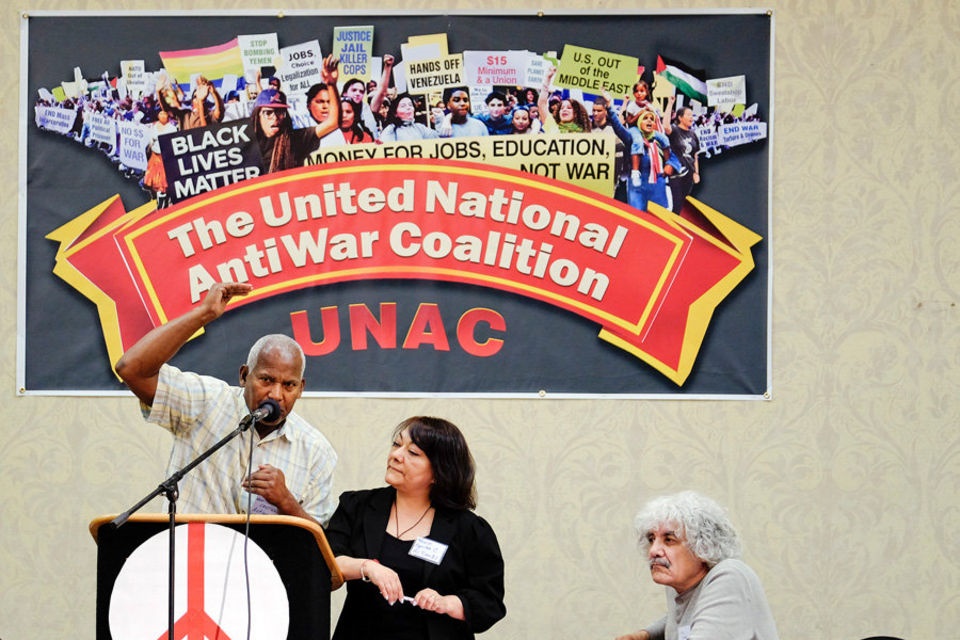 NGO established in 1960 soon after the Cuban Revolution. The message opened by stating "The work UNAC does in USA in the struggle for social justice and against military interventions in other nations is a topic of utmost importance." (click here for the full message from Cuba)
Several Ukrainian activists attended, including three from Odessa who brought a photo display of the murderous, right-wing attack on the House of Labor in that city. The Ukrainians spoke at a plenary session and in a workshop on the expansion of NATO and the situation in Ukraine.
On Saturday evening, the "Tribunal on the Militarization of the Police & Structural Racism" heard from Michelle Kamal, whose son was murdered by police. Other tribunal presenters included Manzoor Cheema of Muslims for Social Justice in Raleigh, N.C.; Larry Holmes from the People's Power Assemblies; and the Rev. Osagyefo Uhuru Sekou from Ferguson, Mo.
Solidarity with the struggles at home
The theme of "Stop the Wars at Home & Abroad" was first used by UNAC at its founding conference in 2010 to oppose attacks on the Muslim community that were part of the phony U.S. "war on terror." Today this war at home is increasingly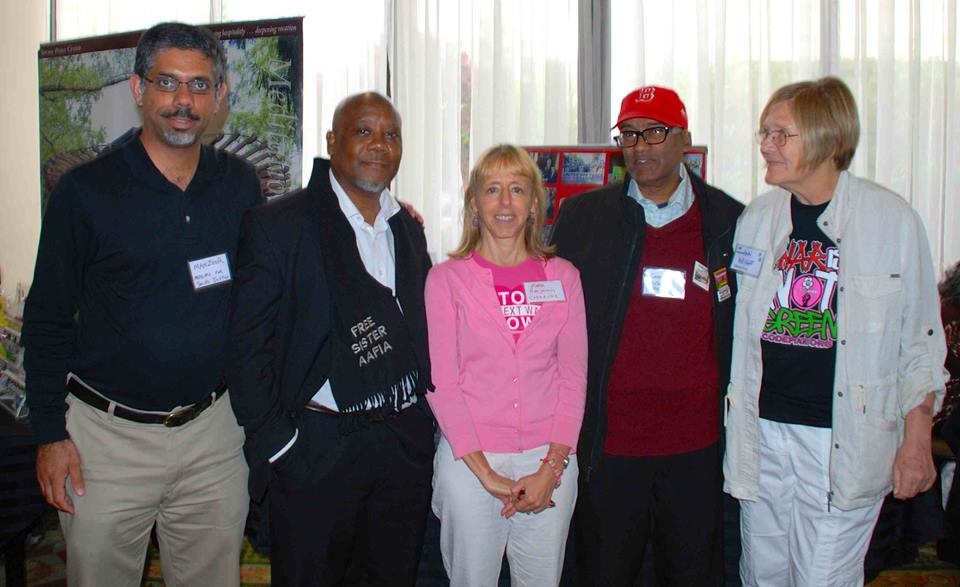 impacting Black and Brown communities, working people and their unions and the civil liberties of everyone.
By featuring voices from communities under attack here at home, UNAC and the antiwar movement made an important political turn that solidly places us in the camp of those fighting the militarization of the police, mass incarceration, climate disaster and attacks on civil liberties, while drawing the connections between those struggles and the increasing U.S. wars and U.S. proxy wars abroad.
In keeping with this central theme of the conference, domestic issues were well-represented.
Clarence Thomas of International Longshore and Warehouse Union Local 10 spoke about how his local shut down San Francisco-area ports this past May Day in support of the urban rebellions against police killings. In the past, the local has gone out on strike against the U.S. war in Iraq, apartheid in South Africa and in support of U.S. political prisoner Mumia Abu-Jamal.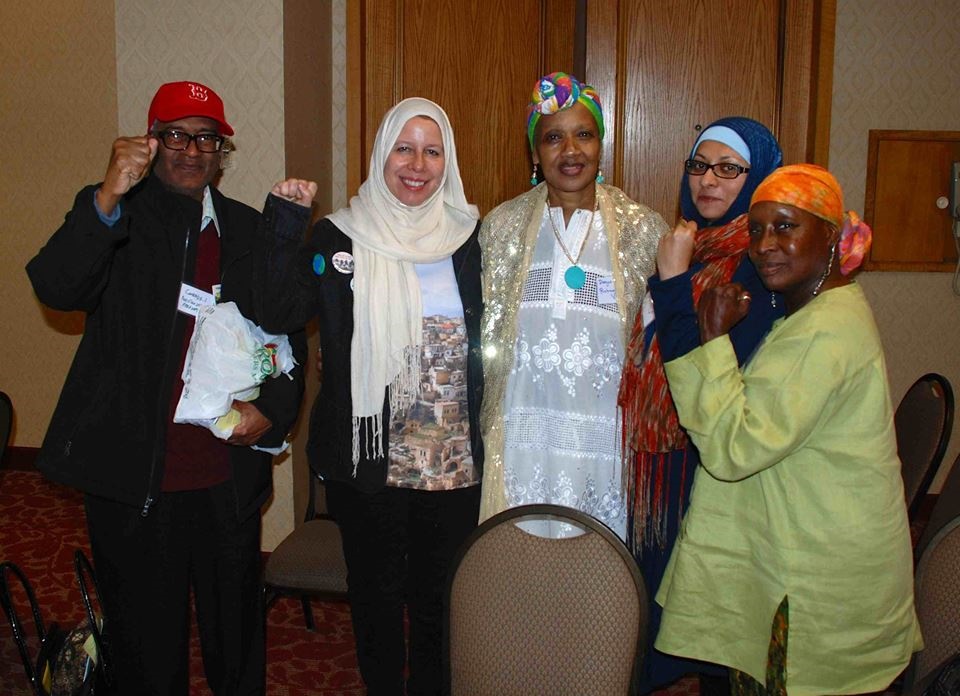 Other speakers for workers' rights included John Dennie of National Postal Mail Handlers Union Local 300, a founder of the Postal Defenders coalition and an organizer for the "Stop Staples" campaign; Chris Hutchinson of Teamsters Local 671 and the Connecticut Community Committee of "Fight for $15"; Charles Jenkins, President of the New York Chapter of the National Coalition of Black Trade Unionists; Shafeah M'Balia of North Carolina-based Black Workers for Justice; and Rolandah Cleopattrah McMillan of the Virginia Defenders for Freedom, Justice & Equality, representing Virginia Raise Up and the "Fight for $15 and a Union" campaign.
And attending the conference were several members of United Steelworkers Local 8751, which represents Boston school bus drivers. This union had recently beaten back a vicious company-inspired frame-up of several of its leaders, who then went on to win re-election in a landslide victory. Recently-elected local President Andre Francois addressed the conference, surrounded by union members.
Marilyn Zuniga, a teacher from Orange, N.J., who was recently fired after some of her students wrote get-well cards to ailing Mumia Abu-Jamal, won support from the conference for her fight to regain her job.
Other speakers addressing important domestic issues were Gerry Condon of Veterans for Peace; Glen Ford of Black Agenda Report; Imani Keith Henry of The Equality for Flatbush (N.Y.) Project (E4F); Cheri Honkala of the Poor People's Economic Human Rights Campaign; climate change author and activist Antonia Juhasz; and John Parker, a leader in the Los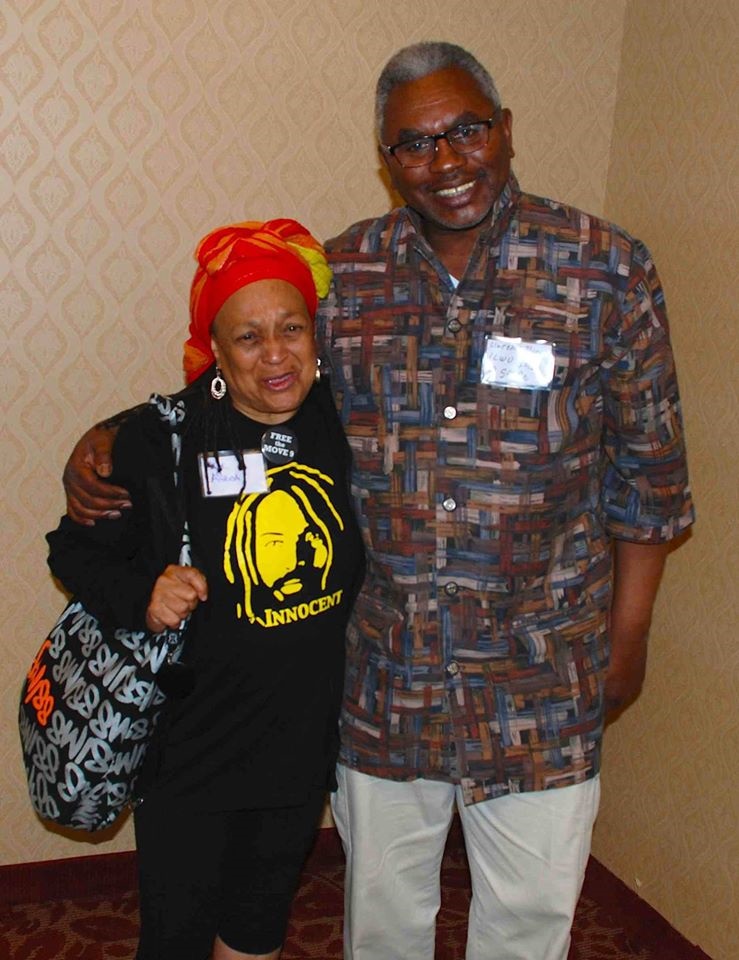 Angeles ballot initiative to win a $15 minimum wage.
As in past UNAC conferences, Muslims fighting for social change played important roles. These included Malik Mujahid of the Muslim Peace Coalition and Chairman of the Parliament of World's Religions; Sharmin Sadequee of the National Coalition to Protect Civil Freedoms; Manzoor Cheema, founder of Muslims for Social Justice; as well as members of Project SALAM, which works on issues of pre-emptive prosecution of Muslims. Joe Iosbaker, a member of the Antiwar Committee-Chicago, himself a target of FBI repression, spoke about the case of Palestinian-American political prisoner Rasmea Odeh.
The "Free Political Prisoners" panel heard about the cases of Dr. Aafia Siddiqui of Pakistan; Simon Trinidad of the FARC (Revolutionary Armed Forces of Colombia); and Puerto Rican nationalist Oscar Louis Rivera, who for four years was a U.S. prison cellmate of Fernando Gonzalez, one of the Cuban 5. (click here for the message Rivera wrote to Gonzalez in solidarity with Cuba)
Also speaking on this panel was attorney and former political prisoner Lynne Stewart.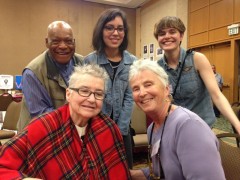 Pam Africa spoke about the 30th anniversary of the bombing of the MOVE commune in Philadelphia and the continuing case of U.S. political prisoner Mumia Abu-Jamal. The conference endorsed MOVE's May 13 rally on the anniversary of the bombing.
National & international speakers, culture & resolutions
Other speakers at the conference included former U.S. Congresswoman Cynthia McKinney; Born King Allah of the Nation of Gods & Earths; "Addicted to War" author Joel Adreas; Palestinian author and activist Susan Abulhawa; Johnny Achi of Arab Americans for Syria; Abayomi Azikiwe of the Pan-African News Wire; William Camacaro of the Alberto Lovera Bolivarian Circle; Dr. Ghias Moussa of the Syrian American Forum; and U.S-based Honduran activist Lucy Pagoada-Quesada, among others.
International speakers included Elizabeth Byce of the New Democratic Party of Canada, Socialist Caucus; Chris Nineham of the U.K. Stop the Wars Coalition; and Elsa Rassbach of the German National Drone Campaign, which is demanding the closing of the Satellite Relay Station at the U.S. Air Base Ramstein and the U.S. Africa Command (AFRICOM) in Stuttgart. A Yemeni family that lost members from a US drone strike has filed a law suit against the German government to be heard on May 27 for allowing Ramstein to be used; U.S. solidarity protests have been called.
A statement of solidarity to the conference was received from the Mobilization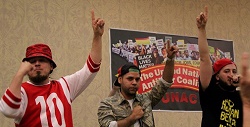 Against War & Occupation (MAWO) in Vancouver, Canada.
Also addressing the conference were central UNAC leaders Judy Bello of the Upstate (N.Y.) Coalition to Ground the Drones & End the Wars; Ana Edwards and Phil Wilayto of the Virginia Defenders for Freedom, Justice and Equality; Bernadette Ellorin of BAYAN USA; Sara Flounders of the International Action Center; Joe Iosbaker of the Committee to Stop FBI Repression; Margaret Kimberley of Black Agenda Report; Jeff Mackler of Bay Area UNAC; and UNAC Co-Coordinators Marilyn Levin and Joe Lombardo.
People's culture was represented by the Hip Hop duo Rebel Diaz, the Filipino dance group Potri Ranka Manis and Syrian poet Avin Dirki. The conference was opened with a poem by Raymond Nat Turner of Black Agenda Report.
A full list of speakers can be found at the conference website: http://UNACconference2015.org.
From education to action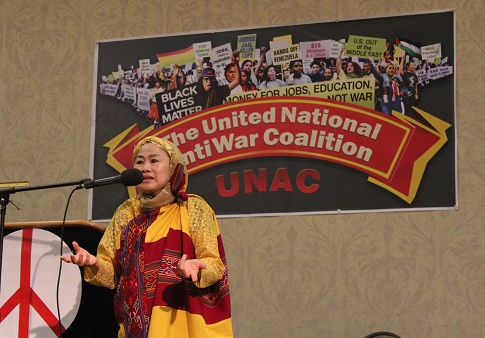 The Action Resolution passed at the final conference session included a call for coordinated antiwar and social justice actions in October; support for Black Lives Matter and other anti-racist, pro-women and pro-LGBTQ groups calling for actions on May 21; support for a call for a national presence on Sept. 19 in Richmond, Va., to defend slavery-related sites threatened by for-profit development; support for the "Fight for $15 and a Union" movement; support for international actions planned to protest the expected and tragic failure of the U.N. Climate Change Conference (COP 21 or Conference of Parties) set for Paris, France; and a resolution supporting Iran's Red Crescent ship taking humanitarian supplies to challenge the U.S. and Saudi Arabian blockade of Yemen, among others.
Click here for the full Action Plan.
The conference was live-streamed by GoProRadio.com, enabling many more people who were not able to attend to follow the proceedings. Much of the conference can be seen on video from GoProRadio.com and provided below.
Videos of many of the sessions can be found at: http://nepajac.org/conferencevid.htm
All in all, the conference was unique for the antiwar movement. Not only was it the most diverse antiwar conference in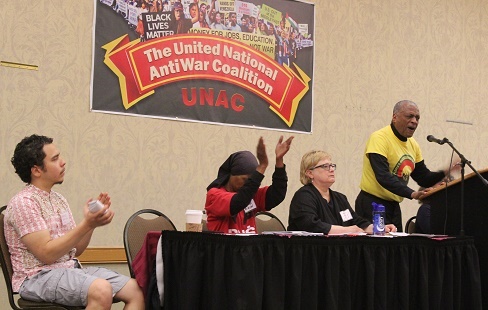 memory, it also helped bring the antiwar movement together with the other developing movements for social change. In doing so, it identified our common enemy and our determination to fight together for justice and peace.
About UNAC
Founded in 2010, UNAC is now the largest antiwar coalition in the United States, with nearly 120 member organizations opposing U.S. wars in Africa, Asia, Europe, the Middle East, South America and the Caribbean.
UNAC's unifying principles are opposition to all U.S. wars, interventions, sanctions, blockades or interference in the internal affairs of other countries; opposition to the wars at home, as addressed at this conference; support for the right of oppressed peoples to self-determination; promotion of mass actions as the primary, but not only, method of struggle; independence from the two major political parties; and a democratic decision-making process.
(Click here for a message read at the conference to the Cubans and his former cell mate Fernando Gonzalez of the Cuban 5 by Polical Prisoner Oscar Louis Rivera.
For more information on UNAC, go here: http://UNACpeace.org
For videos of much of the conference, go here: http://nepajac.org/conferencevid.htm