<![if !supportEmptyParas]> <![endif]>
<![if !supportEmptyParas]> <![endif]>
<![if !vml]>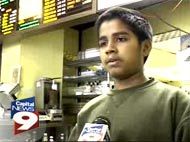 <![endif]>
<![if !supportEmptyParas]> <![endif]>
<![if !supportEmptyParas]> <![endif]>
HOSSAIN'S SON SPEAKS OUT

By: Steve Ference

Abuhamza Hossain said, "We're being targeted because we're Muslims, and they want us to look like we're terrorists."

Abuhamza Hossain, 13, is angry at what he says is unfair treatment that led to his father Mohammed Hossain's arrest and conviction on charges he supported terrorism by laundering money for an FBI informant who pretended to be a missile dealer after he expressed interest in being taught more about Islam.

Abuhamza said, "After he learned religion, he set him up basically."

Abuhamza's father, who owns the Little Italy Pizzeria in Albany, was found guilty on all counts and could face decades in prison.

"It was clear entrapment. If someone comes to you and asks you, I'm giving you $50,000, nobody in the whole world would trust someone with $50,000, and my dad said, no, no, I don't want it. It was entrapment," said Abuhamza.

Now it's the younger Hossain's job to watch after the pizzeria with his mother, and deal with the tenants from his father's rental properties.

Hossain's 13-year-old son spoke to our Steve Ference about what the guilty verdict means to his son.

Abuhamza said, "I have to help my mom over here because she can't handle that much, so now basically everything falls on my shoulders."