UNAC to protest NATO and Trump in Brussels, May 24 - 25
The North Atlantic Treaty Organization (NATO) will be holding a Summit in Brussels on May 24 – 25.  Donald Trump will be attending.   UNAC will be sending a representative to speak at the anti-NATO and anti-Trump actions that will be attended by people from many countries coming to protest the military aggression of NATO and Trump.  
<![if !vml]>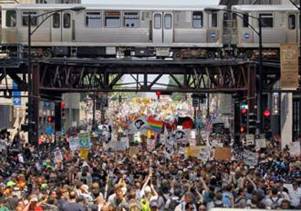 <![endif]>
UNAC sponsored anti-NATO action in Chicago in 2012
The NATO conference comes at a time when the Trump administration is proposing a $54 billion increase in the military budget and demanding that the other NATO countries also increase their military budgets.  It comes at a time when NATO is taking an increasingly aggressive stance towards Russia and is surrounding Russia with military bases and a missile "defense" system.  It comes at a time when NATO has conducted massive, provocative military maneuvers right on the Russian border, and it comes at a time when the US has taken an increasingly aggressive military posture in Afghanistan, Iraq, Syria, Yemen, Somalia and other areas of the world.
During this period at the end of May, UNAC encourages antiwar and social justice organizations to organize antiwar actions in solidarity with the anti-NATO actions that will take place in Brussels.  We also urge you to support the UNAC trip to Brussels by contributing to UNAC here: https://www.unacpeace.org/donate.html.
If you will be in Brussels for the anti-NATO protests, please let us know by sending an email to UNACpeace@gmail.com.
If your group will be holding an antiwar and/or anti-NATO action during this period, inform us through e-mail at UNACpeace@gmail.com