STAND IN SOLIDARITY WITH PALESTINIAN HUNGER STRIKERS
5/08/17
<![if !vml]>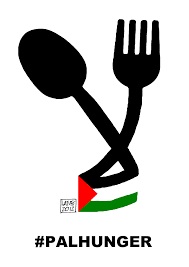 <![endif]>
UNAC stands in solidarity with the Palestinian hunger strikers and all the people of Palestine living under a brutal apartheid regime or in forced exile.
After nearly 70 years of military colonial rule in violation of international and basic humanitarian laws, conditions in many ways have worsened under increasingly right-wing Israeli rulers who operate with impunity under the protection of the bipartisan U.S. government.
Imprisonment of the Palestinian people, whether in jails, under military occupation in the West Bank, under siege in Gaza, in deplorable refugee camps, under apartheid in racist Israel proper, or in the dispossessed diaspora, is a crime against humanity shared by all Palestinians. Palestinians are protesting across their occupied homeland and its diaspora in solidarity with the 1,500 hunger strikers, as well as against their own imprisonment. These mobilizations face violent attacks by Israeli forces.
Israeli jails hold 6,500 Palestinian political prisoners, including hundreds of children, women, elected officials, journalists, educators, and administrative detainees kept indefinitely without due process. But these numbers are only the tip of the iceberg. According to the human rights group Addameer, more than 800,000 Palestinians have been imprisoned under military rule since the 1967 occupation - 40% of the entire male population of the Gaza Strip and West Bank. There are few families who have not had one or more members incarcerated. While in prison, Palestinians are subject to deprivation, torture, inhumane and degrading treatment, medical neglect, and separation from family and the outside world. Hundreds have died under torture or due to medical neglect and mistreatment.
Marwan Barghouti, an imprisoned Palestinian parliamentarian, currently serving several life sentences, announced the hunger strike on April 17, the 53rd annual Palestinian Prisoners' Day. In a New York Times op-ed published the same day, Barghouti wrote that the aim of Israel's denial of freedom and infliction of suffering is to "break the spirit of prisoners and the nation to which they belong" to defeat any resistance. He said that in spite of such treatment, "we will not surrender to it," that all other options had been exhausted and there was no other peaceful way to resist that would hopefully reach those who could put a stop to the abuse. Instead, he writes, "Israeli prisons have become the cradle of a lasting movement for Palestinian self-determination" and the hunger strike will show the world that the struggle for the universal rights of 'Freedom and Dignity' will prevail.
Israel has responded to the prisoners' demands for humane treatment by putting strike leaders in solitary confinement, separating and moving prisoners to other locations, increasing restrictions of family visits, and threatening greater punishments. They are confiscating salt that the strikers take to maintain their health. They are also trying to keep the voices of the strikers and their supporters from being heard by blocking communication with their lawyers and the outside world. It is up to us to join with others around the world who support the just struggles of the Palestinians to guarantee that they will not suffer in silence.
To start, we must insist that the U.S. government uses its considerable power - billions of dollars in aid and arm sales - to demand that Israel guarantees basic human rights to Palestinian prisoners. We must also demand an end to the occupation of all Palestinian and Arab land, including the West Bank, Jerusalem and the Golan Heights, the end of the cruel siege of Gaza, ending the apartheid system throughout historic Palestine that denies Palestinian rights and self-determination, and implementation of the right of return for Palestinian refugees ethnically cleansed from their homeland.
The campaign for Boycott, Divestment and Sanctions (BDS), led by the Palestinian movement, is the most effective international effort that we can take at this time to pressure the Israeli regime. We wholeheartedly support this tactic to expose Israel's criminality.  We also urge our member organizations to join and organize protests and other public events as part of a growing international mobilization in support of the strike.